This is a Sponsored post written by me on behalf of Unilever Ice Cream for SocialSpark. All opinions are 100% mine.
Check out the end of this blog entry for instructions on how to win a Unilever Ice Cream prize pack worth $30!
I'm not kidding when I say that if you were to open our freezer right now, you'd find not one, not two, but EIGHT containers of ice cream. Eight!
That's my husband's addiction, not mine, although I do enjoy a scoop of double fudge brownie now and then. My hubby, on the other hand, enjoys a big bowl of ice cream every night and our two-year-old has her small bowl of "chocolate cookie ice cream" several nights a week, too.
So when I told him that I'd been chosen to write a review of the many Unilever brands of ice cream, he was like a kid in a candy shop. Or, more appropriately, a kid in an ice cream shop who'd just been told he can sample as many flavors as he'd like.
Sort of like my freezer on any given night, Unilever offers six brands of frosty treats that are sure to cool off any hot summer night. Below are each of those six brands – which we purchased for this taste test – along with my husband's "expert" analysis.
Magnum Ice Cream  – Delicately crafted from only the finest ingredients, Magnum Ice Cream is sure to unlock life's greatest pleasures.
HUBBY SAYS: "These are those fancy ice cream bars, aren't they? (Takes a bite.) Whoa, we need to get these more often!"
Good Humor – The beloved Good Humor brand is always looking for ways to reinterpret classic American treats into ice cream form. New flavors include the Mounds bar, York Peppermint Patty bar, and the Reese's Peanut Butter Cup bar.
HUBBY SAYS: "What?! A Peanut Butter Cup bar?! Gimme, gimme!"
Breyers – A classic American lineup of ice creams, Breyers is expanding its offerings this year to include seven new Breyers Blasts flavors, two new limited-edition seasonal varieties.
HUBBY SAYS: "They should make a Peanut Butter Chocolate Chip Cookie Dough flavor. Do you think Breyer's would make it if I suggested it to them? They don't even have to pay me."
Klondike – Best known for its line of stickless bars, sandwiches and Choco Taco® treats, Klondike has an extensive range of beloved classics.
HUBBY SAYS: "What would I do for a Klondike bar? You really don't want to know."
Popsicle – This longtime family favorite is introducing three delicious new pop varieties including more unexpected twists from its ice pop-yogurt combination line that launched in 2012.
HUBBY SAYS: "It's been about 20 years since I've had a Popsicle. (Takes a bite.) I feel like I should be out riding my bike in the street and getting into trouble with the neighbor kids."
Fruttare – Recognized as a brand synonymous with a positive outlook on life, Fruttare includes two types of frozen fruit bars: Fruttare® Fruit and Milk Bars and Fruttare Fruit and Juice Bars.
HUBBY SAYS: "Hey, there's real pieces of fruit in here! These are like grown up Popsicles!"
So what did we think of the six treats? My husband love them all of course, but he was especially fond of the Reese's Peanut Butter Cup bars (below). I liked the MAGNUM Double Caramel bars because anything with double caramel is guaranteed to be good.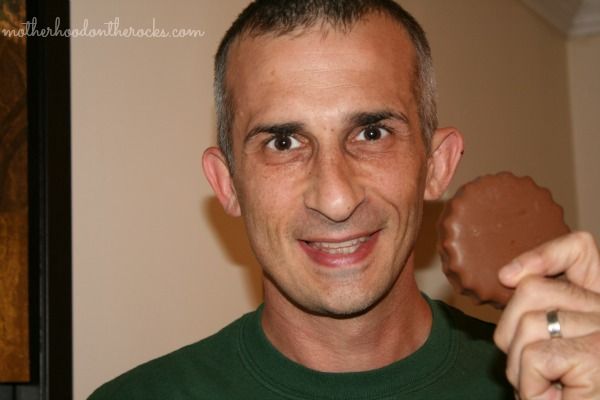 And our toughest critic, our soon-to-be three-year-old loved the Popsicles. They make all kinds of Popsicles, but we got the Slow Melt Mighty Minis. They're perfect for little ones because the Popsicles are smaller than normal and are specially formulated to melt slower and make less mess!
To win a coupon pack good for ALL SIX Unilever frozen treat products (a $30 value!), use the Rafflecopter below. Good luck!