This is a Sponsored post written by me on behalf of Nutrisystem, Inc. for SocialSpark. All opinions are 100% mine.
I don't know about you, but the hardest part about losing weight – for me, at least – is planning the meals. You not only have to figure out what meals to make, but then you have to count the calories, and round up the ingredients. And all of that takes place before you step foot in the kitchen to prepare the meal!
With that hassle in mind, it's easy to see why many women (myself included) fall off the diet wagon with a frozen pizza a little more often than they probably should.
After bouncing from diet plan to diet plan for the past year or so, I was overjoyed recently when I found out that I was chosen to test out the new 5-Day Nutrisystem Jumpstart Your Weightloss Kit. The kit, which can be purchased at Nutrisystem at Walmart for $44.98, includes five day's worth of meals, including 5 breakfasts, 5 lunches, 5 dinner and 5 desserts (that's right, dessert!).
One of the perks of the Nutrisystem kit is not completely inclusive. The 5-day meal plan guide that comes with the kit offers suggestions for things to add to each meal – for example, two cups of side salad with the red beans & rice, or one hard-boiled egg with the double chocolate muffin – so even the little things you might have to buy to round out your meals is made easy thanks to exact instructions from Nutrisystem.
Unlike many weight-loss meal plans, the Nutrisystem kit doesn't just give you a bunch of food and leave the rest up to you. The Jumpstart Your Weight Loss Kit also includes a free meal planner and a program guide with access to free weight loss counseling.
Here's what the kit includes (with a photo of just a few of the goodies below):
5 Breakfasts –

Chewy Chocolate Chip Granola Bar, Cinnamon Bun Bar, Granola Cereal, Double Chocolate Muffin and a Honey Wheat Bagel.

5 Lunches –

Fudge Graham Bar, Cheesy Homestyle Potatoes, Chicken Noodle Soup, Chocolate Peanut Butter Bar, and Red Beans & Rice.

5 Dinners –

Chicken Alfredo, Lasagna with Meat Sauce, Rotini & Meatballs, Homestyle Beef with Potatoes and Thick Crust Pizza.

5 Desserts

– Chocolatey Nougat Bar with Peanuts & Caramel, Peppermint Cookie Patty, Chocolate Chip Cookies, Fudge Brownie and a Coconut Almond Bar.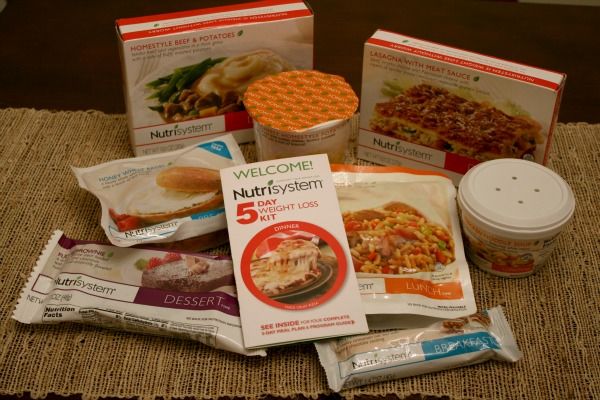 All in all, I've really enjoyed my Nutrisystem kit and, if you're a frazzled mom like me, I'm pretty sure you will to. In one week, I lost five pounds, and I definitely plan to keep the weight loss going with more Nutrisystem kits. The meals are delicious, simple, healthy, and a heckuva lot better for you than those frozen pizzas!
For more information about Nutrisystem, feel free to follow them on Facebook and Twitter. You can also feel free to check out Nutrisystem's recent appearance on the Marie Osmond Show in the video below.