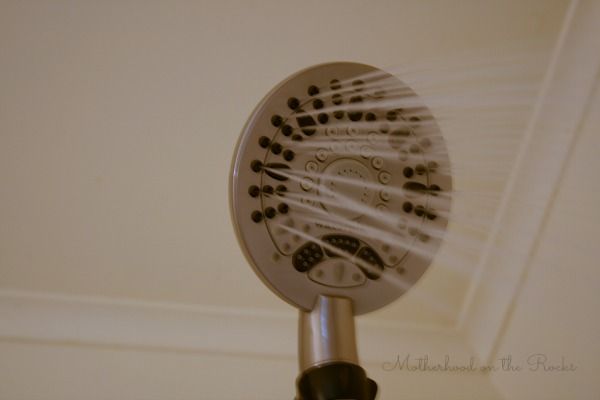 I'm not sure exactly when our guest bathroom became better than our regular bathroom, but it has. Better towels, better hand soap, it's even got a better toilet. Actually, I DO know when the guest bathroom became better than our own – it was when we installed the new shower head.
The upgrade in question arrived courtesy of the generous folks at Waterpik. As part of that generosity, they're giving away a $100 Home Depot gift card to one person who comments on THIS blog entry! That's more than enough for a Waterpik shower head AND some fancy guest towels! (Continue reading for the question I'd like you to answer when leaving that potentially prize-winning comment.)
What I like most about our new Waterpik Medallion shower head – check it out on their website or at HomeDepot.com – is how it gives our family power in the shower. (Confession time: My husband and I have started showering the guest bathroom because, well, it's better.)
How does it give us power? The Waterpik's five functions allow us to customize our shower experiences to meet each of our individual showering needs. My hubby likes to take long showers, and the Waterpik lets him do that. Our little one likes to play during bath time, and the Waterpik's 60-inch hose let's her be a little firefighter. After a long day, I like to put the Waterpik's massages settings to the test. And let's just say, our new shower head massages verrrrry well.
The Waterpik Medallion's 5-Spray Hand Shower Faucet in Brushed Nickel is super easy to install and features 5 different spray options, which can be easily adjusted from the shower handle. It's also a beautiful fixture, which goes well with just about any bathroom style. Here are a few other things I love about the Waterpik Medallion:
The handheld head is attached to a 60-inch hose, which comes in handy for all sorts of things, including washing pets!
The EasySelect spray selector is located on the handle, so you don't have to awkwardly reach through the water stream.
The Waterpik includes self-cleaning nozzles to help you maintain a clean and functioning fixture.
If you'd like to win a $100 Home Depot gift card so you can buy your own Waterpik Medallion and give your family power in the shower, all you need to do is answer the question below. One comment from THIS ENTRY will win! Good luck!
What is the one thing missing you would like to include in your shower? Answer for a chance to win a $100 Home Depot gift card! Sweepstakes Rules.
We all have our morning routines; taking a shower is one of them. The NEW Waterpik PowerSpray+™ EasySelect® Hand Held Shower Head makes showering easier than ever. From the 5 shower settings including the water-saving trickle feature to the anti-clog nozzle, this shower head has it all! Do you want to experience it for yourself? Answer the question below for a chance to win a $100 Home Depot gift card to purchase your new Waterpik PowerSpray+™ EasySelect® Hand Held Shower Head! Sweepstakes Rules.
This is a sponsored conversation written by me on behalf of Waterpik®. The opinions and text are all mine.