This is a Sponsored post written by me on behalf of ALPO® Brand Dog Food for SocialSpark. All opinions are 100% mine.
A few weeks ago, I wrote about my happy dog, Ali. Why is Ali so happy? No, it's not because he's spoiled rotten (which he is), it's because he's healthy. A big part of that health is because he eats very well – arguably better than we do!
Ali is an older Boxer – 11 years, which is 77 in dog years. Because he's older, I'm much more mindful to feed him good, nutritious dog food whenever possible. It's a combination of dry food and wet food, but when it's wet food (his favorite), it's ALPO®.
The folks at ALPO® asked me to let Ali try some of their wet foods – specifically their Chop House Chucks in Gravy and their Homestyle Prime Cuts in Gravy.
What's nice about ALPO® wet dog food is that it's 100% complete and balanced and has quality ingredients, like healthy protein sources, wholesome grains and accents of vegetables. That recipe contributes to a complete and balanced diet for each life stage of your dog (young and old!). Like ALPO® says – and I agree – a healthy dog is a happy dog!
For our pooch's taste test, we picked up three ALPO® flavors: Chop House Rotisserie Chicken, Chop House T-Bone Steak, and Homestyle Prime Cuts Turkey & Bacon. I know what you're thinking: Since when did dog food suddenly become so delicious sounding?!
My husband said the Chop House flavors – with big chunks of meat – look and sound good enough to eat by himself. (I dared him to put it to the test, but he said "we don't let Ali beg for our food, so we probably shouldn't beg for his." As if he was going to share anyway!)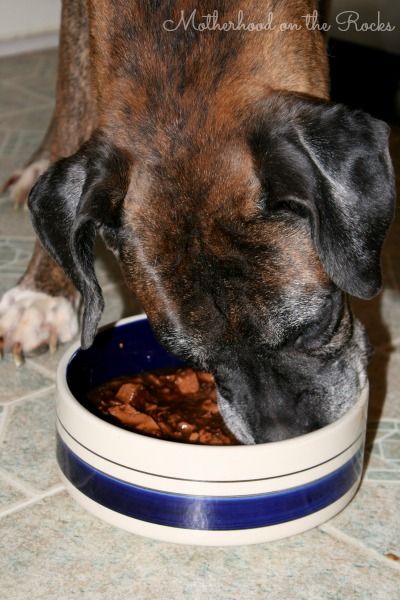 So what did our pooch think of his dinner? If the picture below is any indication, it's pretty safe to say HE LOVED IT! For more information about ALPO® dog foods, feel free to check out ALPO'S HOMEPAGE or ALPO's Facebook Page!